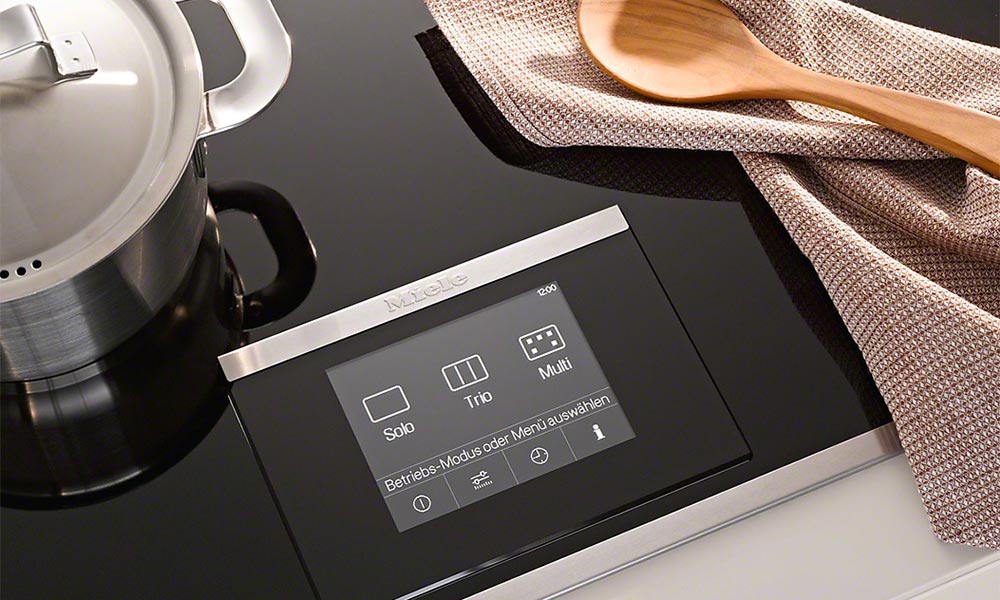 Characteristics, consumption and benefits
Across the rest of Europe, induction hobs have already been in use for quite some time, but in Italy they are considered by many as a novelty, and often with a good deal of suspicion. Let's have a closer look to find out more

What are induction hobs and how do they work?

Induction is an innovative system which generates heat directly onto the base of the pan, saving energy first and foremost, and also speeding up cooking times and ensuring safer cooking, since the surface of the hob itself stays cold.

Induction hobs are fitted with special coils which generate a magnetic field. When a pan made of ferrous material is placed onto the cooking zone, a reaction occurs which transforms the energy in the magnetic field into heat. This heat directly heats up the base of the pan, eliminating all wastage and the inefficiencies of other cooking systems.

Consumption

Normal induction hobs have a maximum power absorption of approximately 7.00 kW. It is however very rare for all the zones to be on at maximum power at the same time; indeed, to prepare a complete meal, the induction hob uses up approximately 2.4 kW (70% of a standard domestic meter). What's more, more modern induction hobs are fitted with devices which allow the user to "limit" maximum absorption, thereby eliminating the risk of exceeding the power rating permitted by the meter.

Efficiency

With a rendering index of 90%, induction is today the most efficient cooking technology around. This superior energy efficiency is due to the fact that induction generates heat directly where it is needed, without wastage and reducing cooking times drastically: for instance, to bring 2 litres of water to boiling point, an induction hob will take just 4 minutes, against the 12 minutes taken by a gas hob.

Which pans can be used?

Pans with a base made of ferrous material can be used on an induction job, such as common pots and pans made of steel, enamelled steel and cast iron. Since induction is the most popular cooking system in Europe, manufacturers have been producing pans that are suitable for induction hobs for years. For some time, induction-friendly pans have been available in stores, but anyone may already have some at home: an ordinary magnet will stick to the base if the pan is suitable for induction hobs.

Benefits and Safety

In addition to the fact that they are extremely efficient in terms of energy savings, and that they drastically reduce cooking times, induction hobs stand out for their absolute safety of use: the zones only switch on upon contact with the pan, thereby avoiding accidental ignition, and since the heat is generated directly onto the base of the pan, the surface of the hob itself remains "cool" without the risk of scalding or burns. The surface is only heated slightly by the heat of the pan resting on it.

As regards the emission of electromagnetic fields, induction hobs emit electromagnetic fields that are 100 times less than those of the earth and 1000 times less than those emitted by a standard hair-drier

Another great benefit is how easy they are to clean: the surface is completely smooth, without any obstacles, and this makes cleaning it so much easier. In addition, given the low temperature the surface reaches, there is no risk of any spilled liquid from the pan burning or caking.